Eight Off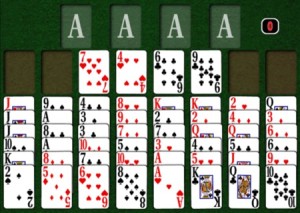 Eight off is very similar to the popular game Free Cell, characterised by the special "Cell" piles which can hold any single arbitrary card from any pile.  Just like the classic foundation building games, the game is won by moving all cards to the foundations, which are built up in suit, from Ace to King.  You'll need to free up cards in the Tableau to play to the Foundation piles, by moving them to other Tableau piles, when allowed by the building rules, or moving them in and out of the Cells, which can be used to hold any single card.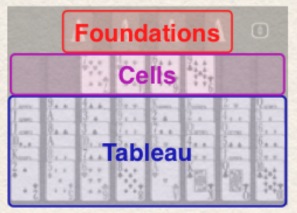 Unlike In Free Cell, you can build Tableau piles down by alternating colour (red on black), in Eight Off, the building is more restricted, and can only be done in the same suit.  This means there's less options to build within the Tableau, but this is balanced by having more Cells available to hold cards.   Like in Free Cell, you may move sequences of cards between Tableau piles, but only if there are enough cells empty so that each card in the sequence may have been moved individually.  So when you start filling up your cells, you can only move smaller sequences between piles.  When Tableau piles are empty, you may move any King, or King-headed sequence to it.
I've found it very tempting to try to free all the Aces right away, by moving cards on top of them to the Cells, but it usually hurts me, as it blocks a lot of Cells right away, and blocks opportunities to build and move large sequences of cards within the Tableau.  What I find works better is to only free Aces that are buried by a single card if possible, and then look at which piles will cause trouble later, because they have a higher card of a suit, above a lower card of the same suit in a pile.  The larger the sequence built on that higher card, the harder it is to free the lower card later, and it's impossible to move them to the foundation while that lower card is blocked.  I try to free those lower cards as much as possible, and guarantee that I won't get blocked later in the game.   After that, I concentrate more on building sequences in the Tableau, than moving cards to foundations – as the sequences are revealed, you'll generally find that cards go to the Aces by themselves.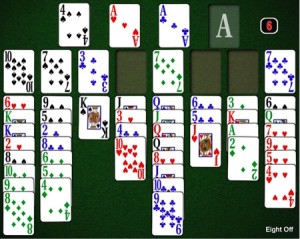 I always use the 4 colour deck with this game – it's set up a per-game deck preference so it's automatically switched in when the game is chosen.  The 4 colour deck makes it very easy to see where my suit sequences are, and I can easily find cards I need to build that are buried in other piles.
Related Games: Free Cell, Seahaven Towers
Available now in all versions of Allgood Solitaire